---
SKYLIGHT FREERANGE
Skylight Freerange is an independent three-dimensional fictional open-world RPG created by Dragoon Entertainment in 2014. Skylight Freerange contains material definitely unsuitable for younger audiences, including coarse and crude language, sexual themes, alcohol and tobacco use, violence, blood and gore.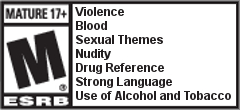 Ports of Skylight Freerange to the Playstation 4 and Playstation Vita are currently in development, and will include an expansion, similar to Skylight Freerange 2: Gachduine.
2. Story
3. Gameplay
4. Download/Buy
---
The minimum requirements for Skylight Freerange are as follows:
Graphics card capable of supporting Pixel Shader 2.0, Vertex Shader 2.0 and Shader Model 1.1

XNA Framework 3.1 (redistributable included with both demo and full game)

Minimum Screen Resolution of 1280x800

Windows XP/Vista/7 Operating System

.NET Framework 3.5 or higher

Windows XP Service Pack 3 or Windows Vista Service Pack 1
---
Skylight Freerange takes place in Canada in 2041, and focuses on the remains of the secret federal agency Severin, and the group's final, hidden chapter in Portage la Prairie, Manitoba. You control the Ghosts, the department of Severin capable of infiltrating and combat among other things, as they try to put an end to the civil war started by their previous administration. The actions of your character, the Ghost Leader, will shape the storyline, and can cause the story to proceed in different ways.
---
The gameplay features:
Choose your path through the storyline with the character you create: Your actions in the main quest can lead to different storylines, quests, final battles and endings, while your choices in side quests can open up entirely different quests on completing them

Customize your characters and their weapons for numerous playstyles, including melee, long-range, stealth, traps and summoning, among others

Explore an open world, where dungeons can be explored for rare weapons and where order of completion for quests and social situations can change dialogue and cutscenes

Develop your character's life by getting them involved in various social circles and communities. Your actions with one group may cause you to be shunned, but you may also open up various rewards and benefits through your social interactions, including marriage, starting a business, going on survival skills campouts and more

Save files can be transferred from demo to full version
---
By choosing to install, copy or run "Skylight Freerange", you are acknowledging that this game has content unsuitable for younger audiences and have read and agreed with Skylight Freerange's terms and conditions.
In order to play (demo or full), the XNA Framework 3.1 Redistributable will need to be installed (included with both demo and full version)! A minimum screen resolution of 1280x800 is also required!
---
Buy Skylight Freerange ($8.00 CAD)
Skylight Freerange is purchased through Paypal. If you have purchased the full version and are having trouble with the link or the game itself, write to questions@dragoon.ca.
---