---
Dragooned - Celebrating 10 years of Dragoon
Dragooned is a single player pick-up-and-play action game and is also intended as a 10th anniversary game for Dragoon Entertainment.
Unlike Dragoon's past story-heavy games, Dragooned does not have a story mode.
Dragooned will be released on the Playstation 4 and the Playstation Vita on April 17, 2018.
A trailer for Dragooned can be found here.
What Dragooned is about:
Dragooned allows the player to choose from 40 playable characters with very different playstyle and to use them in a number of different modes, including an endless dungeon which allows a party of 3 characters, skirmishes against up to 3 AI-controlled characters, onslaughts of endless monsters and a variety of challenges. More information on the modes can be found on their respective dev blog pages.
Who Dragooned has: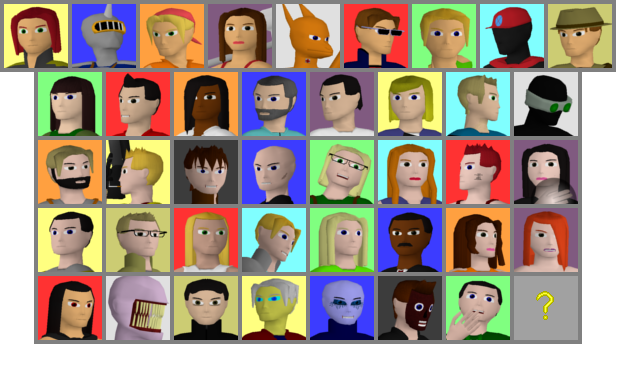 Dragooned's 40 characters consist not only of 33 of the main characters from Dragoon's previous 5 games, but 5 antagonists (1 representing each game) and 2 characters from the Skylight universe's in-game TV series. The characters are billed in the following order:
The Demon Rush
Cherry
Knight
Alberto
Tara
Pound
Cook
Claire
Jimmy
Brooks
Skylight 1 and Skylight 2: Winters of Discontent
Melissa
Tyler
Erin
Simon
Gregory
Bethany
Ashley
John A
Skylight Freerange
Alex
Sean
Dominic
Arthur
Hayley
Sabine
Robyn
Mia
Skylight Freerange 2: Gachduine
Craig
Rory
Kyra
Zippy
Miranda
Noah
Erica
Lucia
Antagonists and in-universe TV show characters
Thormia (The Demon Rush)
Impossible (Skylight 1)
Alessus (Skylight 2: Winters of Discontent)
Polydegmon (Skylight Freerange)
Space God Traven (Skylight Freerange 2: Gachduine)
John Socrates Deepsoulington (Skylight universe's "Who Ate My Face")
Hans Hansagashi (Skylight universe's "Grocery Store Detective")
Each of these characters are labelled with up to 4 of 19 tags that are used to help provide a general idea as to how they function and where their strengths are. More information on each of these individual characters can be found on their respective dev blog pages. 10 monster types are also able to be fought against, as well.
Regarding the other dev blog pages:
A good amount of the information contained in the other dev blog pages for Dragooned comes straight from the in-game Reference, but these dev blog pages include "Developer's Take", which is a more informal look at the modes, characters, monsters and tags, as well as "Trivia", which contains little details that generally do not have much to do with Dragooned, but can still provide additional information.
Trivia:
Character abilities and playstyles were assigned to characters based on a combination of who had it earliest and who incorporated it more heavily into their playstyle. For example, Jimmy had Vital Shot prior to Erica despite Erica's strong endgame use of it in Gachduine, but its presence in The Demon Rush's story gave him priority. Melissa had Risk before Dominic, but Dominic's more offensive playstyle made it more suitable for him in Dragooned.
Another example of playstyle division includes the speedsters from each game and how their respective playstyles are handled by the Speed tag. Claire's over-the-maximum action speed from her Cheetah ability in The Demon Rush led to her having the highest action speed in Dragooned, Erin's free move costs and Field Tactics ability landed her Dragooned's highest move speed, Robyn's more offensive focus led to her needing to use her speed aggressively in Dragooned and Zippy's debuffs and status effects in Gachduine led to him using speed and crowd control more defensively.
Character designs for Dragooned were based on their earliest in-game appearances for playability, which is why Melissa has long hair, Simon's hair and beard are gray and not white, John A not using his later alias, etc. Some of the Skylight Freerange and Skylight Freerange 2: Gachduine characters have had their appearances altered a little bit, as well, as those games built their characters out of their character creators and the small changes were made to make them less cut-and-paste.
Before the current cast of 40 characters were chosen for Dragooned, a number of other characters were considered but ultimately excluded. These include Steve, the Possessor, Anna, Enforcer and Barju from The Demon Rush; Percival Dalton from Skylight 1; Dean Lea from Skylight 2: Winters of Discontent; Silas Beller, Lux and Earth God Gaius from Skylight Freerange; Aaron Carver, Brian Kell, Derek Zehr, Saira Sidhu, Jason Montague and Angela Bacchi from Skylight Freerange 2: Gachduine.
Dragooned's trailer's music uses the main themes for The Demon Rush, Skylight 1/Skylight 2: Winters of Discontent, Skylight Freerange and Skylight Freerange 2: Gachduine, before following up with a bit of Dragooned's own main theme.
---